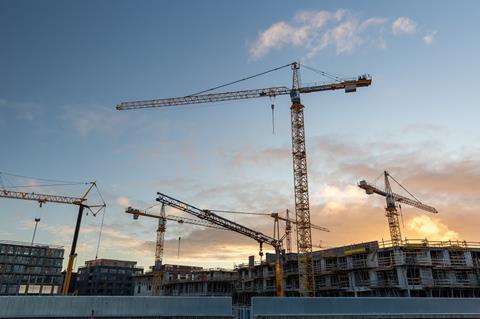 The Welsh contractor and developer Jehu Group has gone into administration, which has brought a halt to at least two housing developments and an extra care scheme.
Administrators Begbies Traynor Group has been called in to act as agents for the group, which had 15 live projects, along with its associated companies, Jehu Project Services and Waterstone Homes.
The Connexus Group confirmed to Housing Today that as a result its 93-home affordable housing scheme in Ledbury, for which the Jehu Group was the main contractor, has been stopped for now.
Amanda Knowles, head of development at the housing association, said: "Connexus remains committed to developing new affordable homes for local people in the area. We are working with the administrators and appraising various options which will enable us to complete construction at the Full Pitcher site."
The Hereford Times reported Homes England had awarded more than £3m of grant funding for the Ledbury Scheme. Housing Today has contacted Homes England for comment.
Housing association Linc Cymru has had to stop work on a 48-home affordable housing site in City Road, Cardiff. Also on a 60-flat extra care scheme, Dan Y Mynydd, in Rhondda Cynon Taf.

Sian Diaz, development director at Linc, said: "Work will now begin to source a new contractor to take over the construction and we will work alongside our colleagues in Rhondda Cynonn Taff Council and Cardiff Council to ensure the successful delivery of Dan Y Mynydd extra care scheme and our new homes on City Road, Cardiff."
Jehu Group, which was established in 1935, works for social landlords and local authorities, and had a total remaining value in excess of £100m.
Waterstone Homes was delivering two further contracts for housing associations, the administrators said.
Begbies Traynor Group said the 104 employees across the Group had been made redundant on 21 October. Five members of staff had been retained to help the directors assist with duties.
Huw Powell, Katrina Orum and Paul Wood were appointed as joint administrators, without personal liability, of the Jehu Group and its companies.
Powell, managing partner at Begbies Traynor, said the firm's collapse was due to inflation following the Covid pandemic, as fixed-price contracts with single digit margins agreed before the pandemic suffered cost increases in excess of 25%.
"This situation underlines the crushing impact of the current inflationary environment on an established and successful business," he said. "Pre-pandemic, the group was highly profitable and by 2019 had almost £7m in net assets."
He added: "Delays in completing projects caused by the pandemic and subsequent cost increases caused a severe cash-flow crisis that it could not recover from, despite support from key stakeholders."
He said it was hoped sub-contractors would be able to help the group's customers find the best possible solutions for existing projects.