Warrington Council has given outline planning permission to knock down Cockhedge Shopping Park and a local authority building to deliver up to 900 homes.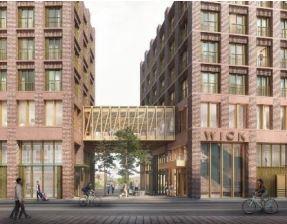 The council's regeneration arm Warrington & Co and developer Altered Space have put forward the scheme, on a site where Cockhedge Cotton Mill once stood. The mill was knocked down after it fell into decline in the 1950s. In the 1980s the Cockhedge Shopping Centre was built on the land.
Buildings across nine zones in the scheme in Scotland Road will range from five to 12 storeys, and include 20,000 sqm commercial office space and a hotel.
The site is jointly owned by the Cockhedge Property Unit Trust and Warrington Borough Council.
Consultancy Lichfields created the design code for the scheme, assisted by Like Architects, SK Transport, and Park Hood Landscape Architecture.
The design code said the plan for the site it to create a "thriving residential quarter, in the heart of Warrington with strong pedestrian links to the town centre". It added the former council building New Town House "does not meet modern occupier requirements".