Detailed plans for a 835-home scheme on low-lying wasteland in Portsmouth have been approved by Portsmouth City Council's planning committee.
The 30,000-home housing association has been given the green light for the Tipner East scheme, which will be branded as Victoria Quay and includes 16 blocks ranging from two to 11 storeys in height.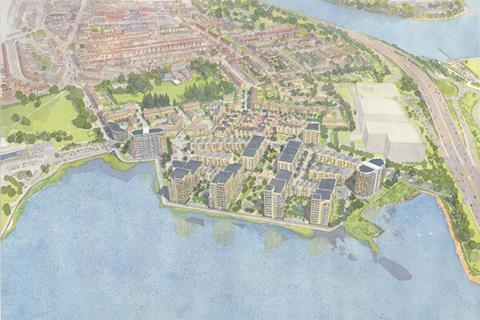 The homes on Portsea Island will consist of apartments, maisonettes and townhouses and range from one to four bedrooms.
A total of 70% of the 835 homes will be for market sale, with 21% for affordable rent and 9% shared ownership.
The scheme includes commercial and community areas within the ground floor of four of the blocks and is likely to include shops and a café.
A report by planning officers said there are "significant planning benefit" to redeveloping the vacant site to the north of the city, including creating a "gateway development" to Portsmouth and creating high-density housing of which 30% is affordable.
>>See also: Vivid makes two new director appointments
Mark Perry, Chief Executive at Vivid said; "We are delighted to have received approval for our Victory Quay (formerly Tipner East) proposals. More than providing additional much needed homes, it will regenerate an area of land in desperate need of regeneration.
"We're looking forward to delivering this for Portsmouth and changing an unused, unloved area into a community to be proud of."
Vivid completed 1,401 homes in 2021/22, making it one of the largest developing housing associations in the country. It has set a target of building 1,800 homes in the current financial year as part of its plan to build 17,000 homes between 2020 and 2030.