One in three homes in levelling up areas cannot be viably retrofitted without public subsidy, according to a report by a group of senior housebuilding figures.
The Building Back Britain Commission (BBBC) estimates there are 2.3 million homes which are valued at less than £162,000, have an Energy Performance Certificate (EPC) below C and are in poorer areas.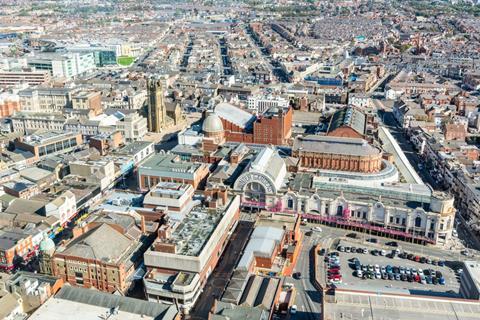 It said for homes under the £162,000 threshold retrofit is unlikely to work without public subsidy as the cost would exceed the potential house price uplift.
The commission, in its latest report on net zero, is urging chancellor Rishi Sunak to tackle the problem by commiting £2.3bn a year to insulating homes in England over the next decade.
The problem is more acute in poorer communities – identified in the commission's report as "levelling up" areas – where more than a third of homes fall under the threshold.
The highest concentration is in the north of England, with Blackpool, Burnley and Hyndburn in Lancashire topping the list for areas with the greatest proportion of such homes.
The BBBC was set up by political consultancy WPI Strategy, and includes leaders from organisations including Barratt Developments, Legal & General, NHBC, Mace and Riverside Group. Its chair, Terrie Alafat, said the government needed to get serious about tackling the cost-of-living crisis by improving energy efficiency.
See also>> What role can housing play in Building Back Britain? An interview with Terrie Alafat
See also>> Call to boost housing numbers by 67,000 per year in north and midlands
"Without this, the government will always be fighting a losing battle on both net zero and energy bills," he said. "But, by working with industry and following the steps that we suggest, it could yet have a win-win".
Alafat, who is also the chair of the Riverside Group, added: "In the long term, taking decisive action now to make our homes more energy efficient will enable the UK to make much-needed strides forwards on the path towards net zero.
"In the short term, it will also mean lower fuel bills for millions of people who are suffering as a result of the energy crisis and urgently need help with the cost of living."
The commission, set up to look at the role housing can play in Britain's post-pandemic recovery, previously called for an extra 67,000 homes to be built annually in the north and midlands.
Who's on the commission?
Terrie Alafat CBE – chair of The Riverside Group
David Thomas – group chief executive at Barratt Developments
Steve Wood – chief executive of the National House Building Council (NHBC)
Rob Boughton – chief executive of Thakeham
Nigel Wilson – chief executive of Legal and General
Jason Millett – chief executive of consultancy at Mace
Who's on the advisory panel?
John Slaughter, director of external affairs, House Builders Federation; Marie Chadwick, policy leader, National Housing Federation; Alex Thomson, director of Policy, Partnerships and Public Affairs at Solace; Nicholas Boys Smith, founding director, Create Streets; Poppy Kettle, senior policy advisor, Royal Institute of British Architects; Adrian Swan, chair of the Home Builders Group at the Federation of Master Builders; Emma Harvey, director, Green Finance Institute; Dara Turnbull, research coordinator, for Housing Europe; Thomas Bledsoe, chief executive, Housing Partnership Network