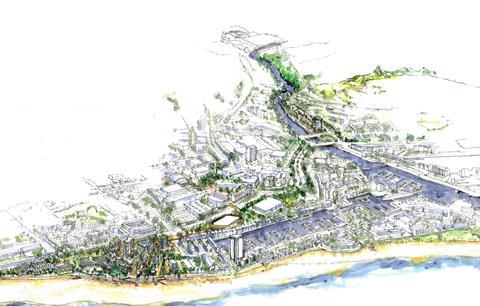 Swansea Council and regeneration developer Urban Splash have signed a 20-year contract to carry out £750m regeneration works.
The Manchester-based developer will now lead on redeveloping sites in Swansea. The regen plans include homes on a 7.5-acre riverfront site in St Thomas and the possible transformation of the 23-acre civic centre.
Jonathan Falkingham, co-founder of Urban Splash and a former resident of the Welsh city, who attended school there, said: "We are very much looking forward to progressing our partnership with Swansea Council, applying almost three decades' experience in regeneration to create a world-class environment which fuses the city's historic fabric with new, sustainable architecture, with the objective of establishing Swansea as one of the UK's most healthy and liveable cities."
Other areas that the deal should see regenerated include the 5.5-acre Swansea Central North site at the former St David's Shopping Centre, which is lined up to deliver new flats as well as office space.
Rob Stewart, Swansea Council leader, said: "The planned regeneration of sites including the area around St Mary's Church known as Swansea Central North and the world-class Civic Centre site are going to be something really special and unique, building on the work we have already done around Copr Bay and the arena."
He said work had already been done to deliver "a new Kingsway, an improved Wind Street, Copr Bay and Swansea Arena over the past five years. Castle Gardens, the Palace Theatre, Albert Hall and a number of other key regeneration schemes are also in progress". Urban Splash would help the council "move up another gear to the next level of reimagining our beautiful city", Stewart said.
Urban Splash was named as the preferred developer in September last year.
The news comes after the company's separate modular housing business House by Urban Splash, a joint venture with Japanese firm Sekisui and Homes England, went into administration last month.