Sadiq Khan has warned London's affordable housing providers they will lose access to development funding if they don't maintain existing properties to a high enough standard.
The mayor of London, in response to concerns in the media about standards in some housing association properties, said he is "determined" to use his funding powers to "drive up standards in both new build and existing homes."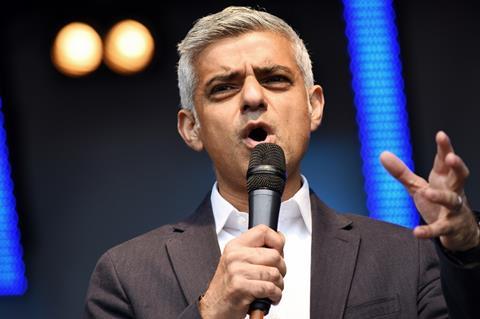 Khan is responsible for allocating £4bn of funding through the affordable homes programme to build 35,000 homes in the capital. In a letter to providers, city hall set out the actions it will take if a housing association is issued with a non-compliant grade or regulatory notice by the Regulator of Social Housing.
It said the mayor could restrict providers from entering new contracts to build affordable housing, prevent them from accessing grant under existing agreements or limit funding to a specific set of projects. In extreme circumstances the GLA could withdraw all funding and revoke investment partner status.
Khan said: "Most social housing in London is well managed and maintained. However, this is unfortunately not always the case, and I am determined to use my funding powers to drive up standards in both new build and existing homes.
See also: GLA strategic partnerships: Full allocations revealed
See also: Khan 'closely monitoring' affordable homes delivery as inflation concern mounts
"London is building some of the most impressive new affordable homes in the country, but it is vital that existing residents experience high standards too."
Khan's statement comes as the Social Housing Regulation Bill continues its passage through parliament. The bill aims to drive up standards in existing social homes and would allow the RSH to inspect landlords and to intervene more on consumer issues. The legislation would also create new tenant satisfaction measures and provide powers for RSH to carry out emergency repairs.