Housebuilder Countryside has been selected by Redbridge council to build 1,000 new homes as part of the regeneration of Ilford town centre.
The firm has won the partnerships housing contract to jointly deliver the Ilford Western Gateway scheme with the London Borough of Redbridge, which will include 30,000 sq ft of community facilities alongside the homes.
The council said that the homes will be set in a 'landscaped community campus' which will include a parent-led nursery and re-provided boxing gym.
The project comes as the town has recently started being served by the newly opened Elizabeth Line – formerly known as Crossrail – and is seen as part of wider regeneration plans which the council says will "radically re-shape" Ilford West.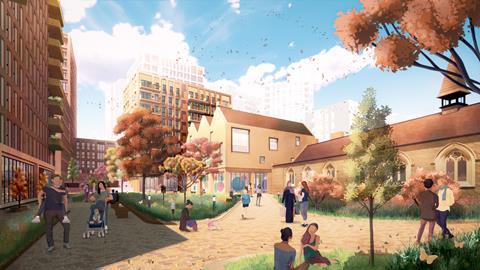 Work is expected to start on the scheme in 2024, following a detailed consultation programme with local residents and businesses, providing 1,100 construction jobs.
The new contract is likely to provide Countryside with a boost as work continues on its takeover by rival partnerships housebuilder Vistry, announced at the start of the month.
Mark Baigent, corporate director of regeneration and culture, London Borough of Redbridge, said: "Ilford is rapidly fulfilling its potential as a vibrant and metropolitan town centre with the opening-up of an Elizabeth Line station, and this radical and exciting project will open up new opportunities and encourage new residents and businesses to our borough boosting our local economies, strengthening our communities, and delivering a long-term legacy of evolution and growth."
Mike Woolliscroft, group co-chief executive at Countryside, said he was "thrilled" to have been selected as the preferred bidder. He said: "As a partnerships-based business, our commitment to delivering high-quality, sustainable mixed-tenure communities is unwavering – we look forward to delivering much needed homes, alongside creating extensive community facilities in order to help support the Council's wider transformation of Ilford town centre."