Private housebuilding output dropped 3.2% in December to round off a poor final quarter for the housing sector in 2022, according to official figures.
However, the drop was partially mitigated by growth in public sector housebuilding, according to the latest data from the Office of National Statistics (ONS), while strong growth earlier in the year meant output at the end of 2022 was still well up on the same period in 2021.
The ONS figures showed that seasonally adjusted private housebuilding output fell back in December to £3.25bn from £3.33bn in November, bringing housebuilding output as a whole, including "public" housing, to £3.71bn, down 0.3% on November.
The ONS said that on a quarterly seasonally adjusted basis private housebuilding had declined by 3.2%, with housing as a whole down 2.7%. Nevertheless, given the strong growth in the start of the year, and the fact that the sector was still recovering from the pandemic during 2021, the ONS said private housebuilding output in the last quarter was still 8.8% up on the same quarter the year before.
The change in housing output came as the volume of construction work overall remained steady in the last month of 2022 as a decline in repair and maintenance work offset an increase in new work.
The latest growth figures revealed a stark distinction between the decline in housing work and more resilient non-housing sectors of construction.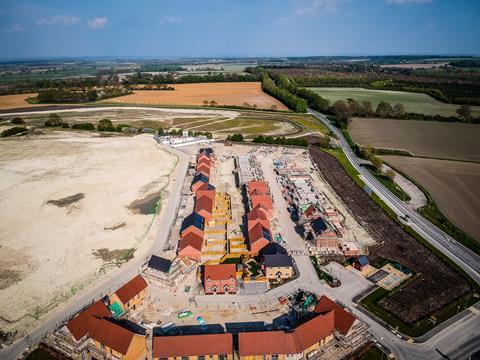 Infrastructure and non-housing repair and maintenance were major positive contributors to construction growth at a sector level, increasing 5.4% and 3.7% respectively.
Meanwhile, in addition to the fall in private housebuilding, private housing repair and maintenance work dropped 8.5%.
Annual construction output for 2022 increased 5.6% compared with 2021 but was down on the 12.8% growth rate of that year, while the final quarter of last year saw output increase only marginally (0.3%), with both new work (0.4%) and repair and maintenance (0.1%) contributing.
Fraser Johns, finance director at Beard Construction, said this "tale of two halves" mirrored the contractor's experience, with high interest rates and diminished confidence impacting the housing market.
James Worthington, a partner at law firm Charles Russell Speechlys, said the flat growth was a sign that the industry was "struggling in the face of external challenges", and pointed to recent PMI data which showed the fastest fall in output since May 2020.
Total new orders decreased 1.8% in Q4 of 2022 compared with the previous quarter, with the fall coming mainly from private commercial new orders (9.6%) and infrastructure (11.8%)
"Government support is needed to help the construction sector: an industry that is still one of the hardest hit by the increasingly challenging economic environment," he said.
Whether that support is forthcoming is unclear, with Mark Robinson, group chief executive at procurement body Scape, adding that reports the Department for Levelling Up, Housing and Communities' capital spending powers had been paused would concern firms looking to the public sector for work.
"Uncertainty remains the dominant feeling among contractors attempting to plan for the year ahead, with few forecasts agreeing on the scale of the recession," he said.
Johns said that firms which could "demonstrate their skillset in delivering smaller, specialised projects" in key sectors such as education, healthcare and both local and central government would be best placed to ride out the next 12 months.
"Constructions firms need to stay close to all stakeholders, continue to adapt, and remain lean and flexible in the months ahead," he said.
Economy-wide, GDP fell by 0.5% in December after meagre growth of 0.1% in November, with low temperatures extending regular Christmas shutdowns for many firms.