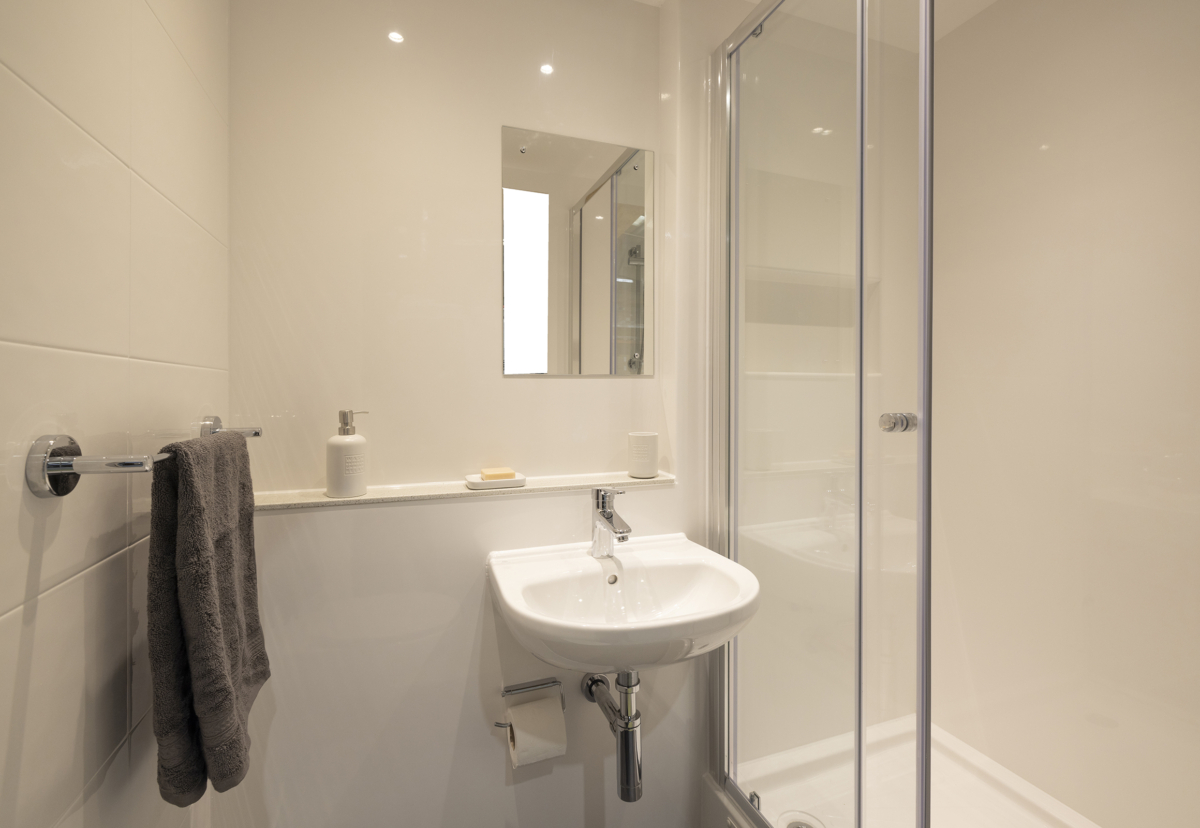 This latest contract brings the total value of projects for main contractor EQUANS to more than £5m and the number of pods to over 2,000. It follows the delivery of more than 1,000 pods for a £200m student accommodation and regeneration scheme for the University of Leicester which has recently been completed.
Offsite Solutions is also manufacturing pods for Pritchatts Park which will create new energy-efficient student homes for the University of Birmingham.
Glengall Road in the London Borough of Southwark is a new development being built by EQUANS with the London School of Economics and Spark Living. It will provide 676 student rooms and studios in a 15-storey building, as well as commercial space.
The GRP bathroom pods for Glengall Road will have a low maintenance finish, a bi-fold pivot shower door, wall-mounted D-shaped hand basin with glass shelf and mirror above, sliding rail shower, silver grey vinyl floor, and a grey solid surface vanity shelf.
The fully finished shower rooms will start arriving on site in Spring 2023 and the pod deliveries will continue until autumn next year.
James Stephens, Managing Director of Offsite Solutions, said, "We are delighted to be working on our third offsite manufacturing contract for EQUANS. The robust qualities and low maintenance properties of GRP reduce operating costs over the building life cycle, making these pods ideal for retained assets such as student housing and build-to-rent schemes."
Amenities at Glengall Road will include a gym, external courtyards, cinema room, laundry, and shared kitchens for the cluster flats. On completion of the construction, EQUANS will begin a 50-year facilities management contract, overseeing maintenance and other services.
Offsite Solutions is the only pod manufacturer in the UK to use a panelised construction for GRP bathroom pods. This solution creates vertical walls and 90° corners for easier integration and the use of standard door sets, removing the need for additional work on site. This pod design also improves aesthetics by avoiding tapered walls that are created with pods from single GRP moulds.