Metropolitan Thames Valley Housing (MTVH) has reported a 33% drop in its annual surplus
The 57,000-home association, in its financial statement for the 2021/22 financial year, reported post-tax surplus of £40m, down from £61m the previous year. Its turnover fell 9% to £406m.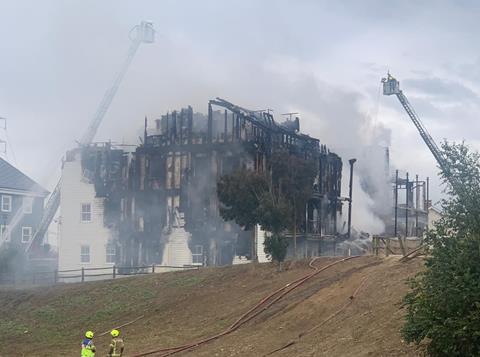 The group's surplus was impacted by several factors including £12.9m in one-off costs relating to a fire on its Worcester Park estate near Morden in south west London.
In October 2019, a four-storey block in the Hamptons estate burnt down and MTVH has since restored the block and remediated others on the same estate.
Its operating expenses increased 18% to £284m which it said was due to extra fire safety spend and rising costs of labour and materials. However, this was offset by a drop in cost of sales of £48m.
The group also reported a £6m drop in profit from open-market sales, raising £59m in sales income compared to £109m the previous year.
MTVH said it remains "committed to creating social housing subsidy through the market sale of homes in order to build more affordable housing than it could otherwise afford." However earlier this year its plan to cut its 10-year development programme from 13,400 to 11,800 homes would be achieved by reducing the number of market sale homes built. Geeta Nanda, chief executive of MTVH this week confirmed the group would "significantly reduce the outright sale element" of its programme.
The group also wrote down the value of some of its investment properties by £7m "as a result of the poorer market for commercial properties."
See also>> Countryside inks 2,500-home JV deal with Metropolitan Thames Valley
See also>> Metropolitan Thames Valley sells stake in build-to-rent pioneer Fizzy Living
MTVH announced earlier this year that it spent £161m on new homes in 2021/22, only around half the amount it originally expected in the face of cost pressures and building safety spend uncertainty.
The G15 landlord completed 712 homes in 2021/22, this is down 29% year-on-year and means the association built out 85% of the 829 homes it originally planned for the year.
Nanda said: "As our property costs are rising, we have taken the step to significantly reduce the outright sale element of our development plan and have been cautious in committing to new schemes this year, spending less on new developments than we planned.
"Nonetheless, 712 new homes have been built and projects such as the regeneration at Clapham Park, one of a number of thriving joint venture partnerships, continue to make very real progress."