Goodstone Living has been given the green light to build 550 homes in Digbeth, Birmingham.
The build-to-rent firm, backed by Australian investment bank Macquarie, had its plans for six new blocks ranging from three to 26 storeys approved by Birmingham councillors yesterday.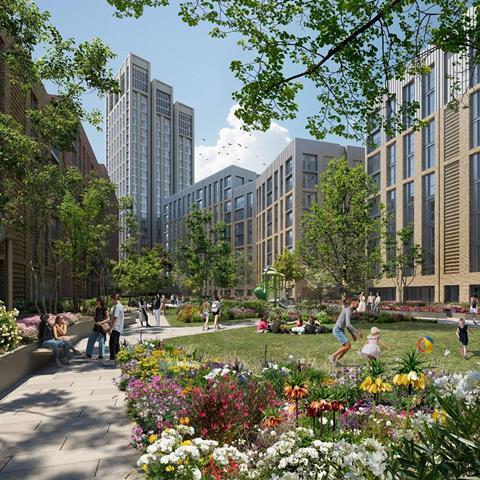 The scheme, designed by Darling Associate Architects, includes more than an acre of private gardens and around 22,000 square feet of shared internal amenity space.
Goodstone Living said it will use off-site volumetric modular construction and the 'latest heating and enhancing building fabric technologies" in the scheme to reduce embodied and operational carbon. The firm forward purchased the homes from housebuilder Eutopia last year. Construction is expected to start early next year.
Martin Bellinger, principal at Goodstone Living, said: "Birmingham's BTR market is hugely competitive, which puts the onus on developers and investors to keep raising the bar of what renters can expect.
"Our Birmingham scheme is an excellent illustration of that in action, with the city's largest private garden, low site coverage, and an unwavering focus on how we can create, foster and enhance local communities through thoughtful design and investment."
Goodstone Living was formed last summer and is led by Essential Living Founders Darryl Flay and Martin Bellinger. It is seeking to raise £1bn inequity to build thousands of rental homes and wants to become the "UK UK's leading specialist manager of build-to-rent residential communities."
The firm also has planning permission for a 338-home development in Leith, Edinburgh.
See also>> Macquarie launches build-to-rent venture in UK
See also>>The government should do more to support build-to-rent
Macquarie has raised more than $14 billion from institutional investors over the last 10 years to invest in housing schemes, partnering with specialist multi-housing operators.
Flay and Bellinger have overseen the development of an estimated 30,000 homes over the past few decades.
The pair formed Essential Living in 2012 but sold their shares and left the business in 2017 following a restructure by main shareholder M3 Capital Partners.