Lloyds has told the financial markets it is forecasting house prices to fall 8.8% next year.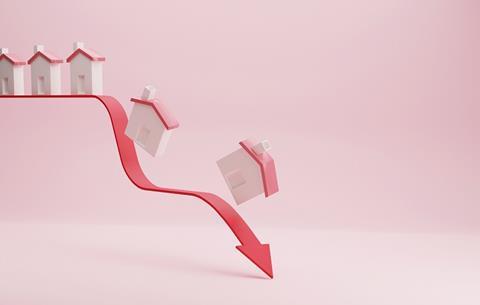 The banking giant, which owns mortgage lender Halifax, in a trading update yesterday said it's probability-weighted prediction is for prices to fall 8.8% in 2023 and 2.3% in 2024 before returning to growth of 0.6% in 2025.
It is predicting inflation to peak at 10.7% by the end of this year and unemployment to reach 5.4% by the fourth quarter of 2023.
The bank predicts these factors, plus rising borrowing costs, would push prices down.
See also: House prices 'to fall by 5% in 2023 and 2024'
William Chalmers, the bank's chief financial officer said: "The one request would be for a period of stability … that in turn will help us to support customers, retail, commercial and insurance, navigate what will be a tougher macro environment going forward".
Lloyds has set aside £668m for potential defaults from borrowers. This contributed to its pre-tax profit for the three months to 30 September dropping from £2m to £1.5m.