Liz Truss will become the shortest-serving prime minister in UK history after announcing her resignation as Conservative Party leader today.
Truss' 45 days in office have been defined by economic and political turmoil, as markets crashed in response to her controversial mini-Budget.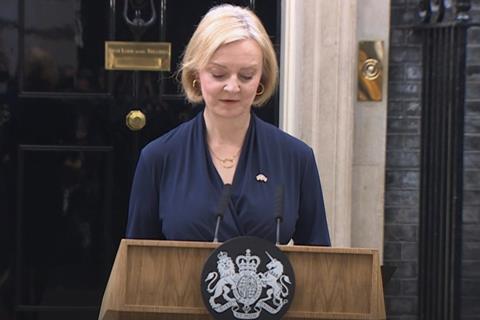 Despite reversing many of the central measures of the so-called growth plan and replacing its architect, Kwasi Kwarteng, the past week has seen her political authority almost completely evaporate, with numerous Conservative MPs calling for her resignation.
"Given the situation, I cannot deliver the mandate on which I was elected by the Conservative Party," said Truss, in a statement outside No 10 Downing Street.
Truss said she had informed the King of her decision and met with the chair of the 1922 committee, Sir Graham Brady, where they agreed that a leadership election would take place within the next week, with the prime minister remaining in post until a successor is chosen.
"This will ensure that we remain on a path to deliver our fiscal plans and maintain our country's economic stability and national security," Truss said.
The move means that the country will have a new prime minister – its third of the year – by the time the recently appointed chancellor Jeremy Hunt delivers the much-anticipated fiscal statement on 31 October.
Hunt has already reportedly confirmed he is not going to stand for the leadership and will remain as chancellor, with former chancellor Rishi Sunak and leader of the House of Commons Penny Mordaunt tipped as favourites to replace Truss.
Stocks rose in London on news of the statement, with the FTSE 250 index gaining 0.8%, and the pound rose above €1.12.
Leader of the opposition Sir Keir Starmer has called for an immediate general election, stating that the Conservative Party "has shown it no longer has a mandate to govern". The Liberal Democrats made the same call.