L&G Modular Homes has agreed a joint venture with southern-based housing association Vivid to build 1,000 homes over five years.
The offsite builder, a subsidiary of insurance giant L&G, said the joint venture will see the business construct up to 300 net zero homes a year for the 33,000-home social landlord across the south of England.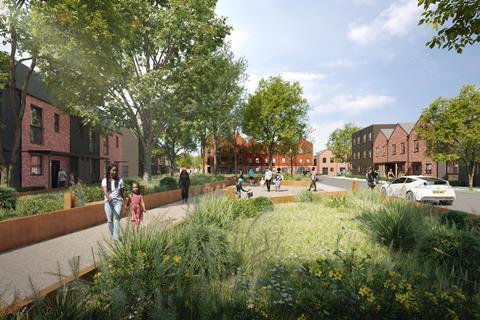 The announcement comes a month after L&G Modular Homes was selected as preferred developer for the 400-home net zero Canalside South scheme by Wolverhampton Council.
L&G claims its homes are 73% cheaper to run and emit 93% less carbon than the typical UK home as assessed by Ofgem, with annual running costs of just £668 a year.
The announcement comes after L&G revealed the modular business fell to a loss of £37m in annual accounts for the 2021 calendar year, despite recording its first revenue since being set up in 2016. The firm is targeting delivery of 3,000 homes a year by 2024, but until today's deal had a development pipeline of just 1,200 homes.
Last month L&G group chief executive Nigel Wilson told Housing Today the slow growth in the business was largely due to "awful" planning delays holding up delivery of sites.
>> See also Capital ambitions: Why Nigel Wilson is persisting with L&G's huge housing push
>> See also Brave, bold and ambitious: L&G steps up modular housing plans
Rosie Toogood, CEO of Legal & General Modular Homes, said she was "delighted" to be working with Vivid. "Our partnership brings together two like-minded organisations with shared values and objectives to deliver much-needed high quality affordable homes that will make customers feel safe, comfortable, and enjoy where they live," she said.
Mark Perry, chief executive of VIVID, said: "We are both committed to providing new homes to address the housing shortage and in particular for us where that helps meet our affordable housing ambitions."
Click here to read last month's full interview with L&G chief executive Nigel Wilson.