Several large housebuilders – including two listed firms – have had their build quality performance downgraded in the industry's yearly customer satisfaction survey overseen by the Home Builders' Federation HBF.
Listed housebuilder Crest Nicholson and Lovell – the partnerships housing subsidiary of listed construction giant Morgan Sindall – both saw their topline customer satisfaction scores downgraded from a five-star to a four-star rating, among a total of seven builders to suffer the same fate.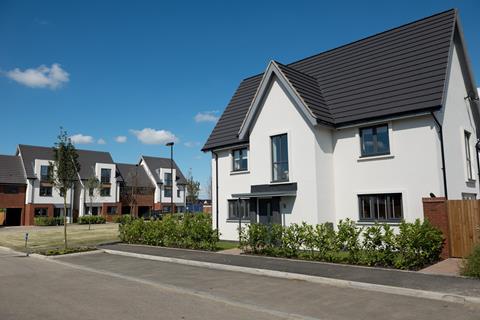 Other builders to be downgraded include £505m turnover Avant Homes, £166m turnover high-rise developer Strata, and Sunderland-based social landlord, Gentoo. The two remaining firms to have seen their scores fall from five to four were Perth-based A&J Stephen and South east developer Thakeham Homes.
Overall, the HBF said the industry scored a customer satisfaction score of 90%, which is one percentage point down on the score achieved for the last two years. The survey recorded a drop of 2% in the number of people who were "very" or "fairly" satisfied with the quality of their homes, from 80% in the survey last year, to 78% this year.
There was also a drop in the "net promoter" score – the number of people who would recommend their builder to a friend – with the score falling by three percentage points from 45% to 42%. Customers also on average saw more problems with their build this year, with just under a third of buyers reporting 16 or more problems to their builder, compared to just over a quarter last year.
Commonly, issues of quality tend to rise during periods where build volumes in the industry increase, as they have since the pandemic, and where materials have been in short supply.
>> See also The housing ombudsman and its consumer protection challenge
>> See also Housing's quality crisis: what's the solution?
However, despite these issues a number of builders managed to improve their score in the year, with seven firms moving up from a four-star rating to a five-star rating. These firms were Burrington Estates, Hayfield Homes, Hopkins Homes, Jones Homes, Lagan, Stewart Milne, and Stonebond Properties.
Alongside Tilia, Eccleston Homes was the only other of the 54 firms included in the survey to score three stars.
The HBF customer satisfaction score has been seen as an increasingly important benchmark in recent years following a series of build quality scandals in the industry, involving Bovis Homes and Persimmon when under previous management.
The HBF, which carries out the survey, said the 90% customer satisfaction figure was the third year in a row that the score had been that or above.
Stewart Baseley, Executive Chairman of the Home Builders Federation (HBF) said: "To have 90% of consumers recommending you is a fantastic achievement and demonstrates the industry's overwhelming commitment to delivering high levels of customer service.
>> See also Top 50 housebuilders 2022: In-depth analysis
>> See also Top 50 housebuilders 2022: Full tables
Baseley added: "Despite hundreds of thousands of homes being built each year, this year's survey shows the vast majority of customers are happy with their purchase and the service provided by their builder.
Baseley concludes: "Homebuilders remain focused on driving improvements in this area and the creation of an independent New Homes Ombudsman and a more robust Consumer Code will support this drive and should lead to even higher levels of customer satisfaction moving forward."
Avant's downgrade comes after the business was controversially taken over by SME Berkeley de Vere in a deal spearheaded by former Persimmon boss Jeff Fairburn. The takeover prompted the departure of the previous chief executive, Colin Lewis, over fears Fairburn planned to decrease the quality of development at the firm – an accusation denied by Avant at the time.
A spokesperson for Avant said today: "Whilst the vast majority of our customers are delighted with their new Avant home, like many other developers, we have experienced challenges on some sites which has affected our usual high standards.
"However, we are passionate about putting customers at the heart of everything we do and have already taken action to deliver a quality service for all, including strengthening our senior management team to provide more oversight, and enhancing our systems and processes.
"We also fully endorse the objectives of the New Homes Quality Board to drive up the quality of new build homes as well as reinforcing protections for customers and as such we activated our participation of the Code on 7 March 2023."
A spokesperson for Crest Nicholson pointed to a statement which had been included in its annual report, released in February, anticipating the downgrade. The statement said: "During FY22, the housebuilding sector was impacted by disruption to labour and supply chains through a combination of adjusting to life outside of the European Union, the aftermath of COVID-19 and the conflict in Ukraine. Against this backdrop the Group has experienced operational challenges and disruption in one of its divisions that has delayed the handover of some of its properties. This has disproportionately impacted our overall 2022 satisfaction score which is now expected to be marginally below the threshold required to retain five-star when awarded in February 2023.
"Given the importance of providing five-star customer service, and in advance of further industry-level changes that will soon be introduced to protect customers buying a new home, the Group is already implementing an action plan to improve its performance next year."
Housing Today has approached other housebuilders which have been downgraded for comment.