Housebuilders have reacted positively to the prime ministers' decision to review all policy promises made during the summer leadership contest, following concern over Rishi Sunak's pledge to ban all building on green belt sites.
The prime minister's official spokesperson this week said that all pledges made during the contest between Sunak and rival Liz Truss were under review given the changed economic circumstances. The spokesperson said: "We are looking at all the campaign pledges and we are looking at whether it is the right time to take them forward."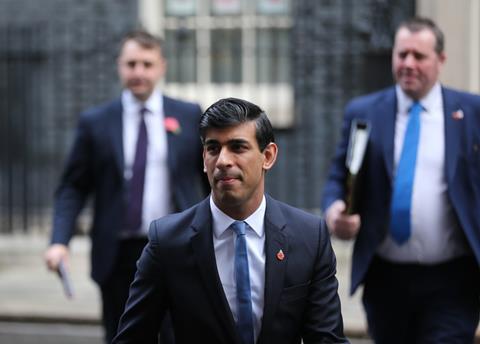 Sunak's campaign promises included a series of pledges to tighten up green belt rules, making building on any green belt land all but impossible, as well the introduction of stringent "use it or lose it" powers to enforce the rapid build out of housebuilding sites.
Currently developers are able to build on green belt sites where they can argue very special circumstances, and councils can argue to change green belt boundaries as part of the local plan review process. Housebuilders have previously argued that attempts to impose "use it or lose it" powers which harshly penalise slow build out by developers would act to reduce development overall by greatly increasing the risk of buying and holding land.
Officials confirmed the review of campaign pledges covered Sunak's planning and housing promises (see box below).
A spokesperson for the Home Builders Federation (HBF) said the body hoped the PM's move was a signal that his administration is looking to prioritise the social benefits and economic boost that house building can provide at a time of economic difficulty, rather than put obstacles in the way of it.
Neil Jefferson, MD of the HBF said: "If government is committed to delivering 300,0000 homes, or even maintaining existing supply levels in the face of the current economic outlook and the closure of Help to Buy, we need to see urgent interventions that address the ongoing constraints.
"The nutrients issue is delaying over 100k homes, despite house building being a very minor contributor. The planning process is failing to function effectively and the industry is facing a huge increase in taxes and regulatory costs. We are urging new ministers to engage constructively with industry if we are to avoid the severe economic and social implications that will result from a drop in housing supply."
The HBF recently warned that a significant hit to housebuilding from removing planning targets could have a £17bn impact on annual economic activity, and wipe out £3bn of investment in affordable housing each year.
At the time Sunak made the pledges he was criticised by conservative commentator Robert Colvile, director of the Centre for Policy Studies thinktank, who said the proposals "pander[ed] to the fantasy that we can build all the houses we need on brownfield far away from where any Tory voters might see it […] more nimbyism is emphatically not the answer."
The promises were also criticised by free market think tanks including the Institute for Economic Affairs and the Adam Smith Institute, while former policy adviser to Theresa May, Giles Wilkes branded it a "pretty desperate and regressive move".
Sunak's housing and planning promises
During the summer leadership contest Sunak made eye-catching promises around planning and housing. On the green belt, he said that he would take advantage of the expected review of the National Planning Policy Framework (NPPF) to bring in rules preventing local authorities from releasing green belt land for development through "making changes to green belt boundaries".
In addition, he said he would change the rules governing individual applications, which appeared to imply that where a local authority had refused a scheme in the green belt, it "should not be permitted on green belt under any circumstances". Currently developers are able to appeal refusals and argue their schemes demonstrate the "very special circumstances" under which green belt schemes can be permitted in national policy.
On housing, the new PM said he would bring in rules that would ensure that developers "build on land which already has planning permission locally first, before they are granted more permissions in the same area". Unbuilt out sites would face a levy "after a set period of time", while councils would also be given enhanced compulsory purchase powers to use, again after an "agreed timeframe", that would enable the council to buy the site off the housebuilder at a discount to its market value.