Rishi Sunak will become the next prime minister after his rival Penny Mordaunt pulled out of the leadership race just minutes before the results of the final round of voting were due to be announced.
Mordaunt's move means the decision over the UK's new leader will no longer be taken by Conservative party members. He will become this year's third prime minister and will replace Liz Truss just seven weeks after he lost this summer's leadership race.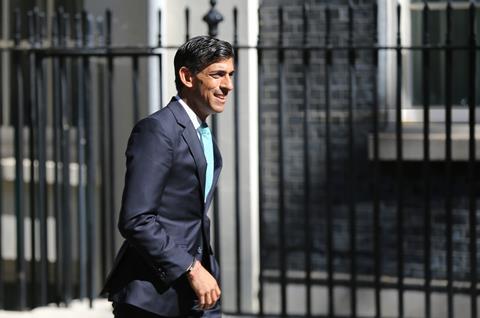 Sunak secured the support of more than half of Conservative MPs with the numbers of his declared backers swelling dramatically after former prime minister Boris Johnson backed out of the election yesterday evening.
The result will make Sunak the UK's first British Indian prime minister and the first person of Hindu faith to lead the country. He will also be this century's youngest PM, at the age of 42.
Mordaunt announced she was abandoning her bid shortly before the final round of parliamentary voting was due to be announced by Graham Brady, the chairman of the 1922 committee of backbench Tory MPs.
Her campaign team had claimed this afternoon to be just a few names short of the 100 MPs needed for a valid nomination, although she had just 27 publicly declared backers.
Sunak officially announced his bid only yesterday, saying he wanted to "fix our economy, unite our party and deliver for our country". He added that there would be "integrity, professionalism and accountability at every level of the government".
Support for the former chancellor among Conservative MPs had grown in recent weeks after many of the predictions he had made over the summer about Liz Truss' tax-cutting economic agenda, including that it would lead to rising interest rates, proved to be true.
The Civil Engineering Contractors Association said Sunak's overwhelming priority must be to restore stability to British politics and called on him to embrace infrastructure for growth policies. The trade body's director of operations Marie-Claude Hemming said: "We hope the new Prime Minister will not repeat the mistakes made in the aftermath of the global financial crisis, when capital spending was cut too far and too fast, and economically viable projects were cancelled for short-termist reasons – often to the detriment of the taxpayer, as they had to be re-procured at greater cost at a later date."
Industry reacts to Rishi Sunak's victory
British Property chief executive Melanie Leech:
"The last few months have damaged the UK's international reputation and economic standing, the country urgently needs strong and competent leadership to rebuild confidence. The new Prime Minister needs to confirm their leadership team as soon as possible and provide clarity on their strategy for stabilising the economy and their policy priorities. The property industry stands ready to work with Rishi Sunak in creating a thriving economy and addressing regional inequalities through the delivery of new homes, work and leisure spaces that are essential to revitalising our towns and high streets."
Local Government Association chair James Jamieson:
"On behalf of councils across England and Wales, I would like to congratulate Rishi Sunak on becoming our new Prime Minister. As a former Local Government Minister and Chancellor, the PM already understands the mounting pressures that the sector face and the funding that councils desperately need to ensure they can keep vital services running for the many people who rely on them.
"Across the country, councils are working hard to support residents with the cost of living; looking after our most vulnerable children and adults; building desperately needed homes; supporting children with SEND and providing accommodation to those fleeing Ukraine and Afghanistan.
"However, without certainty of adequate funding – and given the funding gaps they are seeing – councils will have no choice but to implement significant reductions to services including to those for the most vulnerable in our societies. In these difficult times, we all need to come together and work in the best interests of our residents. The Government needs to ensure councils have the funding to meet ongoing pressures and protect the services that will be vital to achieve its ambitions for growth and to produce a more balanced economy, level up communities and help residents through this cost-of-living crisis."
Flagship Housing Group chief executive Elizabeth Froude:
"The housing sector is one with a long term view of providing homes and stability for a wide cross section of society, as well as the most vulnerable.
"Our services and ability to improve existing homes, deliver much needed new homes and support those in need to stay safely in their homes, are ever more needed in the current environment.
"Certainty on the Government's view and approach to ensuring the stability of the housing sector is critical and quick clarity is needed, not least of all the stability of our income through rents and grants to ensure delivery of homes is feasible.
Woolbro Group managing director Ben Woolman:
"Rishi Sunak must now work at pace to undo the damage that Kwasi Kwarteng's mini-Budget inflicted on the housing market. The scale of the challenge ahead of him in tackling Britain's housing crisis is enormous, however, things are already looking up for the new PM.
"Firstly, mortgage rates fell for the first time since the start of September on Friday, though they are still uncomfortably high at 6.55% for an average two-year fixed rate deal.
"And following Jeremy Hunt's scrapping of most of the tax breaks announced in the mini-Budget, Mr Sunak's background in finance could serve as an additional calming influence on markets. This, subsequently, should eventually bring mortgage rates closer down to earth again.
"However, the former chancellor must still exercise caution when planning his next move to tackle Britain's housing crisis.
"While his pledges to scrap the Government's 300,000 homes-a-year target and block greenbelt development would have resonated with Tory voters during his leadership bid this summer, they would have done little to help struggling first-time buyers in reality.
"Mr Sunak should therefore be mindful that 2024's general election will come around quickly – and many voters still struggling to get a foot onto the property ladder will be unlikely to show their support at the polls.
"First and foremost, Mr Sunak must get long-overdue reforms of Britain's planning system over the line once and for all. It is unquestionably the greatest barrier to delivering the new homes this country needs and, therefore, tackling our housing crisis."
Timber Development UK chief executive David Hopkins:
"Like many other parts of the construction industry, timber businesses are crying out for some political stability right now. We hope the appointment of Rishi Sunak as PM will provide this and continue to calm down the markets too. Of course, he has some urgent economic issues to prioritise. But for TDUK members, whether he's a good PM or not will also be judged by his actions on Net Zero.
"Liz Truss commissioned a review of Net Zero policies to ensure they are pro-growth and pro-business, following increasing scepticism amongst conservative MPs. We firmly believe that a Net Zero strategy with effective and targeted regulation is a driver of economic growth and can be part of the solution to this country's difficulties. We look forward to productive conversations with Mr Sunak's ministers on this and other issues in the coming months."
Royal Town Planning Institute chief executive Victoria Hills:
"Rishi Sunak has pledged to fix our economy and deliver on promises made in the Conservative Party's 2019 manifesto. But he will need an effective and robust planning system to achieve these goals.
"Our members have shown resilience, and consistent dedication to their profession, but they are concerned that continued uncertainty will delay plans and projects their communities need.
"I have today written to the new Leader of the Conservative Party urging him to provide certainty on planning reforms, adequate funding for planning, and to give local communities a say on what happens in their area. We are actively working to engage government throughout this period of transition, to demonstrate that an effective and robust planning system can be an enabler of economic growth, delivering the affordable homes, public services and critical infrastructure that this country needs."