Housing starts dropped by 19% in the third quarter of the year, according to the latest official data on housing supply.
The government figures, based on building control records, showed that seasonally adjusted quarterly housing starts from July to September fell to 42,430, down from 52,420 in the previous quarter.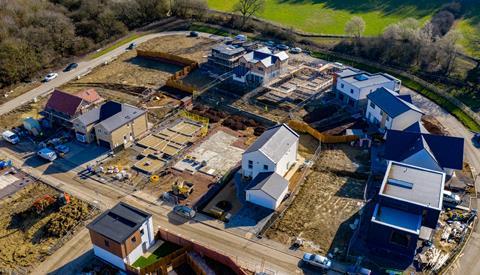 The fall – the first quarterly drop since the fourth quarter of 2021 – is a reaction against the spike seen in the previous quarter, when starts had risen to a 20-year high prior to the introduction of an upgrade to a new version of Part L energy efficiency regulations. The quarter's figures were 2% down on the same quarter last year, and take the rolling 12-month starts numbers to 180,110, just under 1% up on the figure a year ago.
Completions also fell quarter-on-quarter, by 4% to 42,950, and were a fraction down on the 43,130 reported in the same quarter last year.
However, the twelve-month rolling completions figures are now well below the heights reached last year, with 173,240 homes built in the last 12 months, compared to 180,580 this time last year. These numbers are based on figures from building control and warranty organisations, including NHBC, and are indicative of trends but only thought to cover around 80% of the market.
According to the most reliable data, which is only produced annually, housing "net additions" rose 10% to hit 233,000 in the year to March.
The falls in starts and completions cover the period ahead of the mini budget and the subsequent turmoil in the housing market, with the summer period instead characterised by strong but slowly moderating demand, alongside high construction inflation and planning bottlenecks.
A number of housebuilders are now predicting falls in output in the year ahead due to the drop in demand seen as a result of steep rises in mortgage rates in the wake of the mini budget, and the grim economic outlook. The Office of Budget Responsibility has forecast that private housing completions will drop from 174,450 this year to a low of 134,561 by 2025/26.
It said completions will not even recover to their current level by the end of its forecast period in 2027/28.
The numbers on starts and completions came as the government also released official house price data for October. The ONS house price index, compiled by from Land Registry data, showed that prices rose 0.3% between September and October, taking the annual rise in prices to 12.6%. London was the only part of the UK to see a drop in prices in the month.
The house price index comes after mortgage lenders and estate agents have already released more up-to-date house price numbers based on mortgage lending and asking prices, with Rightmove this week finding that prices had fallen 2.1% in the last month.