Growth in housebuilding activity slowed in October but remained in positive territory despite the strengthening economic headwinds, according to the latest survey of purchasing managers.
The CIPS Construction Purchasing Managers' Index reported the housebuilding activity index at 51.2, down from 52.9 last month, but above the crucial 50 score which separates growth in output from contraction.
The positive growth comes despite a big drop in buyer confidence in the housing market in the wake of the September mini budget, which has seen borrowing costs rise sharply, with the Nationwide this week reporting its first month-on-month fall in prices since July last year.
The construction industry as a whole recorded a reading of 53.2 in October, up from 52.3 in September and its highest since May, with the growth attributed to a combination of new project starts and strong pipelines of unfinished work. However, growth expectations among construction firms remain subdued, with optimism falling sharply to its lowest point in almost two and a half years, reflecting falling volumes of new work and broader concerns about the state of the economy.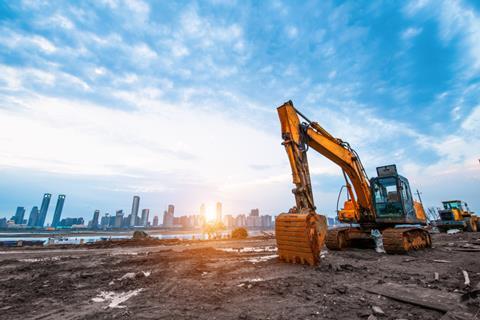 Tim Moore, economics director at S&P Global Market Intelligence, which compiles the survey, said forward-looking survey indicators suggested growth would be "harder to achieve in the coming months" as rising borrowing costs, economic uncertainty and cost constraints hit order books in October.
Moore said business optimism was "by far the weakest since the early pandemic months", with 33% of the survey panel anticipating a rise in activity and 26% predicting a decline.
"Construction firms cited concerns about a broad-based decline in client demand due to cutbacks on non-essential spending among clients, although some noted that growth linked to green energy projects, planned infrastructure spending and success in niche markets could help to offset the UK economic headwinds," Moore added.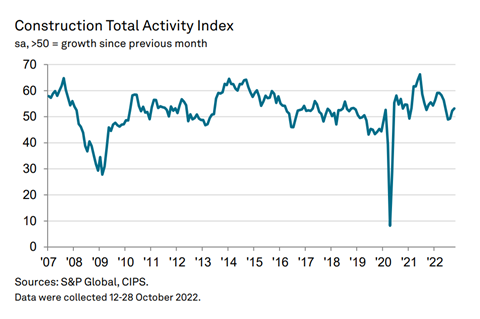 Commercial building was the best performing category (54.5), with output reaching a five-month high, while residential grew at a softer rate (51.2). Civils work decreased for the fourth month running (48.5).
The survey reported an easing of supply chain pressures, though cost burdens across the sector continue to rise due to greater energy costs.
>> Latest trends and prices data dashboard
Mark Robinson, group chief executive at procurement authority SCAPE, said construction growth "continues to fly in the face of wider market conditions".
"Looking ahead, firms will have one eye on the upcoming Autumn Statement and its impact on the public purse – which often supports development activity during economic downturns," he said.
With public spending likely to be reduced, it is vital that local authorities are efficient in their efforts to secure central funding to support local regeneration, boost social value and stimulate the economy more broadly."