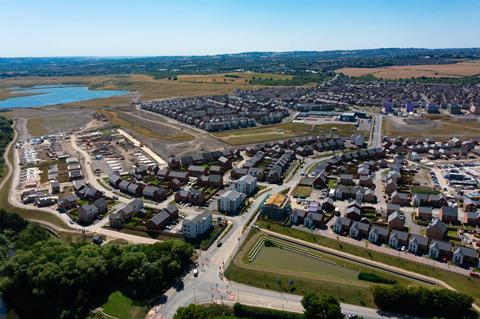 Regeneration developer Harworth said it continued to see "robust demand" from housebuilders for its land in the year to 31 December 2022, in a trading update.
The firm said it completed sales for 2,236 residential plots last year, up from 1,411 the year before, with prices in line with, or ahead of June 2022 valuations. It said it has the potential deliver 29,311 plots from the pipeline.
Lynda Shillaw, chief executive of Harworth, said "significant operational progress" in the second half of last year had been done despite "rising interest rates, inflation and wider market and political headwinds" that had "weighed heavily on investor sentiment".
Interest rates and the housing market were hit after the government's disastrous mini-budget in September last year, and inflation has been rising sharply.
Shillaw said that the "continued economic volatility means that the market backdrop for the year ahead is challenging".
However, she added that: "Against this backdrop it is important to highlight that our focus markets of residential and industrial & logistics are drivers of economic growth and continue to have robust fundamentals, and that there remains an acute shortage of high-quality consented land."
Harworth, which buys brownfield sites and rememdiates them to sell largely to industrial and commercial developers, said it had continued placemaking across residential sites, such as submitting planning for new schools at South East Coalville in Leicestershire and a medical centre at Waverley. Investment and construction partners have been selected for Harworth to develop up to 1,200 single-family built-to-rent homes.
The regeneration developer has also secured planning permission for 248 residential untis across three sites during 2022.
Harworth will announce its full year results on 14 March this year.