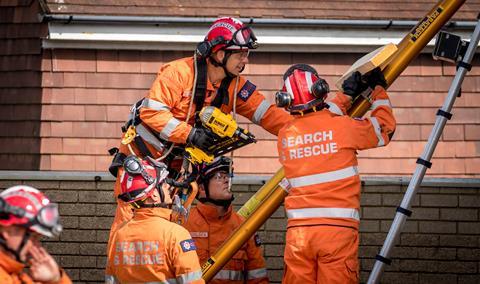 The National Fire Chiefs Council has today voiced concerns about the safety of modern methods of construction.
Buildings are being "designed, approved and built despite a lack of understanding about their performance", the umbrella-body said in a statement. Representatives of modular builders hit back by saying the sector made "no compromise on safety."
An NFCC position statement on modern methods of construction said the body was particularly concerned about 3D modular or volumetric construction and engineered mass timber products such as CLT being used for high-rise buildings, buildings housing vulnerable people, or those where a 'stay put' policy is in operation. A stay put policy is where residents are advised to stay in a building when there is a fire while firefighters tackle the blaze.
The NFCC called on the government to tighten rules for testing MMC.
Gavin Tomlinson, NFCC's protection and business safety scrutiny committee chair, said: "NFCC is concerned that MMC buildings are being designed, approved and built despite a lack of understanding about their performance.
"Given the current regulatory system has already been described and accepted by government as 'not fit for purpose' even for traditional construction techniques, this adds additional uncertainty in the built environment."
Mark Hardingham, chair of the NFCC, added: "It is vitally important to make sure that products and technologies are safe for use, including their likely performance in a fire, before they are used in the built environment.
"Not only is this important for safety but it also helps to protect leaseholders from unnecessary costs that can arise when buildings need remediation, or interim measures, including things like waking watches."
The NFCC said it "welcomed current reform of building safety" but added "significant cultural change in the system must take place to improve competency levels across the sector and ensure that MMC is promoted and used in a manner which provides safe buildings for all". The Building Safety Act, a reponse to the fatal high-rise fire Grenfell Tower, came into force in April.
A spokesperson for trade body Make UK Modular said: "There is no compromise on fire safety and indeed our standards and testing routinely go above and beyond what is required."
A spokesperson for Make UK Modular added said it was keen to meet with the NFCC at the earliest opportunity "to discuss their concerns and reassure them on the issues they have raised".
Home warranty and insurance provider NHBC did not wish to comment.