The majority of the G15 group of large London-based housing associations saw their operating performance 'deteriorate' in 2021/22, according to a report by Morningstar.
The financial analyst said operating expenses across the G15, which own around 675,000 homes, have grown more rapidly due to higher spending on repairs and maintenance, building safety and soaring inflation.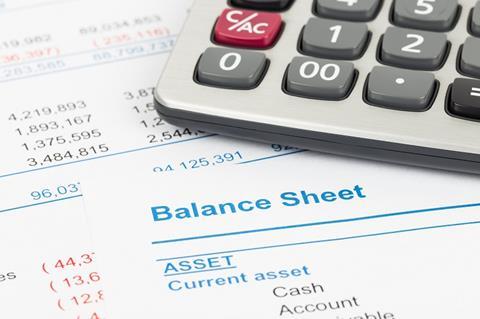 This has contributed to the consolidated Earnings Before Interest, Taxes, Depreciation, and Amortization( EBITDA) margin of the group falling from 33.2% in 2019 to 28.5% in 2022
Only Network now has a margin above 35%, whereas in 2019 Guinness, Clarion, Peabody, Southern and Catalyst were also above 35% (see graph below)
EBITDA margin in 2022 v 2019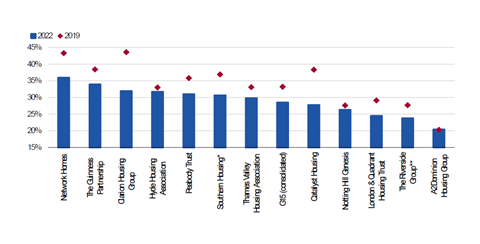 Source: Morningstar
The report said G15 members "have seen a mostly generalized deterioration in their financial performance over the last years" although it said the overall margin of 28.5% is still 'satisfactory.'
Morningstar also warned that G15 associations need to monitor debt levels to avoid a "sharp deterioration" in credit quality.
It said the net debt to EBITDA ratio has reached nearly 20 times for some associations (see graph below)
Net Debt to EBITDA Ratio in 2019 v 2022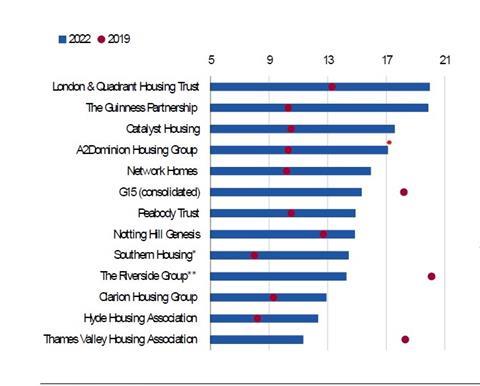 Source: Morningstar
It said: "We view this level of net debt as very high. Some G15 providers have seen their debt metrics deteriorate substantially since 2019, due partly to the decline of their EBITDA, but also because of their large debt-funded investment programmes, including constructing new social housing and undertaking major repairs.
"While the investment needs related to both new and existing housing stock, including fulfilling de-carbonisation commitments and meeting building safety standards, are significant, we believe monitoring financial leverage is a key priority for the G15 members to avoid a sharp deterioration of their credit quality."
Geeta Nanda, chair of the G15 and chief executive of Metropolitan Thames Valley said the pressure on the delivery model for new homes is "rising", not helped by the economic disruption over the past few months and the government's decision to cap rents to 7% next year.
Investment in social housing to turnover in 2022 (%)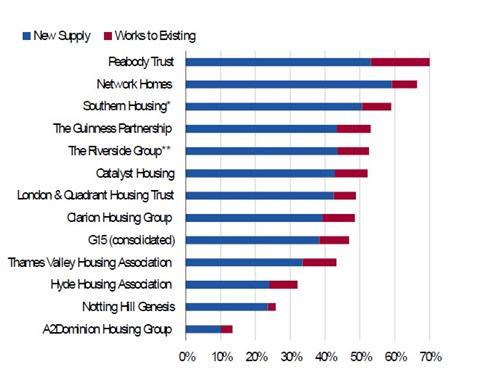 Source: Morningstar
She said: "This makes it all the more pressing for the government to provide more certainty through a long-term rent settlement, which includes reintroducing the rent convergence mechanism, the absence of which reduces G15 members' investable income by around £67m every year.
>>See also: Can HAs again keep development going as the rest of the market slows?
"While we remain strong and stable organisations, our capacity is certainly under pressure. To do more to improve the conditions of the homes we provide, and continue to build the homes the country needs, there must be government recognition of the challenges we and other social landlords face."
She added that investment in repairs and maintenance and tackling building safety issues are "absolute priorities" for G15 members.