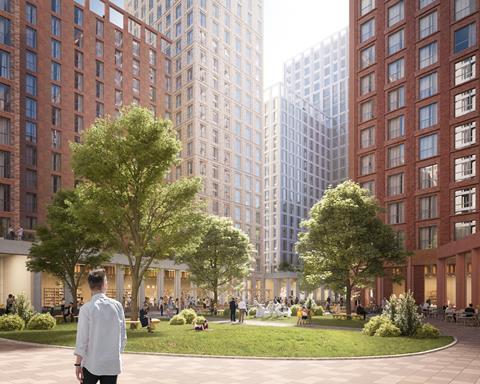 Manchester-based developer Cole Waterhouse and Tonia Investments have bought a 3.8-acre brownfield site in Leeds to build 1,012 flats.
The joint venture purchased the land from Gold & Amber and Rushbond, which recently secured planning permission for the homes. The flats will be split across five separate blocks on the former home of Marsh Lane Goods Yard.
Opposite the triangular site where the project, known as 'Leeds City Village', will be developed is the city's cultural district, Quarry Hill.
Damian Flood, Cole Waterhouse's chief executive, said: "We seek to build developments where placemaking is central to the design to help deliver places that are desirable destinations as well as great places to live."
Tonia Investment principal Charlie Qian said: "Tonia is excited to work with Cole Waterhouse. We hope the delivery of this impressive scheme will add to the continued expansion of the City eastwards. It will provide an acre of new public realm that we hope will complement the success of the neighbouring cultural quarter."
The former goods yard is bound by Marsh Lane to the west and Shannon Street to the north.
The JV aims to work with Leeds Council to make a number of design changes to "enhance the residential offering and public realm space". It is hoped nearby residents will be satisfied with a revised planning application, which will include changes such as increasing the size of studio flats to larger one-beds flats, and focussing more on the communal areas and the overall scheme design.
Flood added: "We're really excited to be working in Leeds at a time when it is undergoing a significant period of transformation and we will be appointing a primarily Yorkshire-based team to deliver the project over the next six years."
The revised planning application is expected to be submitted at the end of this year with work due to start on the site as soon as planning is granted.