An East midlands council has decided to rip up its draft local plan following comments by Liz Truss, during her campaign to become Conservative party leader, that she wants to scrap 'Whitehall-inspired Stalinist housing targets'.
Ashfield council's Cabinet, which has been run by a group of independent councillors since 2019, agreed on Tuesday to review its local plan.
The council announced in October last year that it had paused work on its local plan in order to clarify whether comments by Boris Johnson expressing opposition to greenfield land development during the ex-prime minister's speech to the Conservative party conference signalled a change of government planning policy.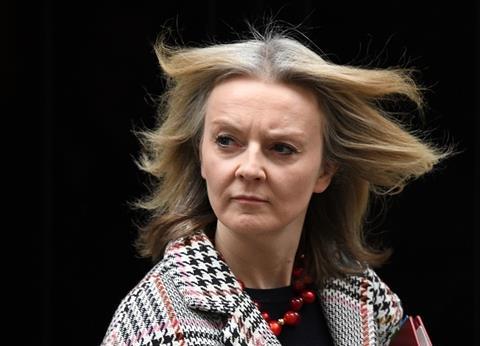 The council has said it would be unable to meet its housing land requirements, which are calculated through the government's standard method formula, without encroaching onto the green belt that makes up 41% of the district.
A report presented to Ashfield's cabinet this week cited a string of comments by Johnson's successor Truss, when she was campaigning for the Tory leadership.
In relation to housing targets, Truss set out her intension to devolve powers over housing targets to local councillors who, she said "know far better than Whitehall what their communities want."
The new PM added that wanted to end "one size fits all policy approach to housing" and have "different policies in different parts of the country" because the situation in Cornwall and London is "very, very different" to that in the north of England, or Scotland, for example.
The report also cites Truss' media comment that she wants to "abolish the top-down, Whitehall-inspired Stalinist housing targets," which are "the wrong way to generate economic growth".
The report by officers says the way councils' housing need is assessed is 'likely to change', potentially resulting in Ashfield having to accommodate fewer new homes.
It also notes the PM's rowing back from earlier support for green belt development to favouring "incremental expansion of villages" in the countryside.
Ashfield's Cabinet backed taking forward a revised local plan that reflects these 'recent national pronouncements on the Green Belt and housing numbers'.
>> See also Inside the council planning department resource crisis
>> See also Is working from home driving a planning system crisis?
The report warns though that the DLUHC (Department for Levelling Up, Housing and Communities) has told Ashfield that alternatives to the standard method for calculating housing need should be used only 'in exceptional circumstances' and will be scrutinised 'more closely' when the local plan goes before public examination.
The report adds that the proposed review will mean some green belt sites identified in the draft local plan, which includes a new settlement near the town of Hucknall, would not be taken forward. However, a council spokesman said that the cabinet had not discussed which specific sites would not be allocated for development in the revised plan.
The delay would mean that the anticipated date for submitting the council's plan for examination would be pushed back to 2023.
Ashfield, like all other English local authorities, has been set a deadline by the government to have an up-to-date local plan in place by the end of next year.
Ashfield's decision to review its draft plan follows moves by a host of English councils, including the Essex districts of Basildon and Uttlesford, to delay or withdraw their blueprints in the wake of the government's decision to abandon the radical planning reforms outlined in its 2020 white paper.
Yesterday the government revealed data showing that planning permissions had dropped to the lowest level for a decade.