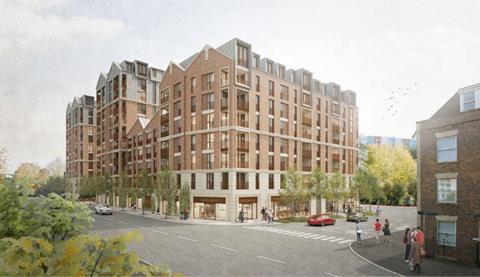 Officers at Bristol council have recommended councillors reject a plan for 221 homes in the city because of concerns over the overall design of the scheme.
POD Architects designed the plans for housebuilder Donard to create a mixed-use redevelopment on the former site of a spice manufacturer Barts' factory. The new buildings were designed in an e-shape with two buildings of 11 stories and one of seven. Nearby buildings mentioned in the report are two- and three-storeys.
In a report to the council's development control meeting on Wednesday officers wrote: "Revisions have been made to the application, however, it is not considered that a good quality scheme is proposed that would successfully deliver on the overall aspirations for the area.
"In addition, it is not considered that the quality of the scheme itself justifies the high density, level of harm that would arise, and the weight required to be placed on emerging policy for it to be supported."
The residential flats were the first in the Bristol's Mead Street Development Brief regeneration plans, which was recently approved by the city's cabinet, to come forward for decision.
Planners worked with the designers of the scheme more than a year on the scheme but had raised a number of concerns during the process on its overall design.
More than 300 objections to the application were submitted to the council along with a 4,000-signature petition objecting to the additional height the scheme would bring to the area.
It was noted the scheme would make a "significant contribution" towards the city's housing targets and comply with the council's affordable housing policy. Donard has said 30% of the homes would be affordable housing, secured by a section 106 agreement.
But officers explained: "[The] harm that would arise from granting planning permission is considered to significantly and demonstrably outweigh this benefit [of increase housing, and affordable, housing supply]."
Pre-application advice for the scheme issues on 30 November 2021 was that a mixed-use redevelopment to create new office and retail space as well as 236 homes could not be supported. But Donard was encouraged to continue to continue developing its proposals for the land on the corner of York Road and St Luke's Road.
A spokesperson for Donard told local media that the developer "profoundly disagree with officers". "We're a private developer, but we're proposing to deliver two-thirds affordable homes on this brownfield site," they said.
The spokesperson state that the homes would meet national space standard, be energy-efficient homes and 23 three-bedroom family homes we included in the plans.
They also argued that the development of a few storeys would not impact on views, which was a main objection in comments to the council.
It is expected the Mead Street development area will evenually deliver about 1,500 new homes.