Developer Ballymore has unveiled plans for a £1.7bn redevelopment of Edgware town centre which will include 4,000 homes as well as half a million sq ft of commercial space.
Ballymore said it plans towers of up to 29 storeys on the 7.9 ha site, plans for which are being drawn up by Glenn Howells Architects. It is working in partnership with the property arm of Transport for London, TTL Properties, on the scheme, which is now going out to consultation with local communities prior to more detailed proposals being worked up.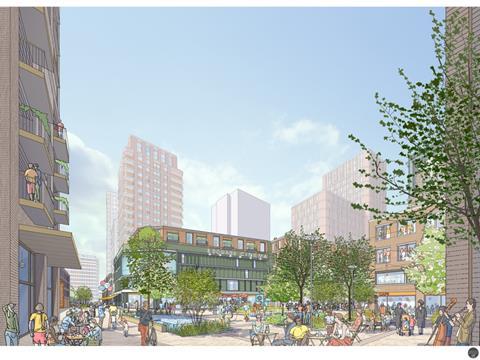 The firm said it is willing to invest £1.7bn in the north London suburb with a development that will create 1,400 full time jobs and an £80m annual boost to the local economy when complete. The development is to be carried out on the site of the Broadwalk Shopping Centre, its car park, and the bus station and garages adjacent.
The 4,000 homes proposed will include affordable rent, shared ownership, first time homes, senior living, and student accommodation, Ballymore said.
A spokesperson for Ballymore said buildings would range in height in the scheme, in what is currently largely a low-rise suburb, with the tallest proposed to be 29 storeys, reducing down to five to nine storeys along the southern edge of the site closest to the neighbouring residential properties.
The commercial element of the scheme will include a new retail and leisure district with office, retail, food and beverage and health uses, alongside a new transport interchange. The developer is also proposing to create a new park and a 1.9 hectare Nature Park within the town centre.
The news comes as Ballymore late last week confirmed it had signed the government "self remediation" contract after initially appearing on a list of 11 developers cited by housing secretary Michael Gove in parliament as having failed to do so. The government is threatening firms which don't sign the contract, under which developers promise to fix fire safety defects on buildings going back 30 years, with being forced out of business.
John Mulryan, group managing director at Ballymore said he was "delighted" to be sharing how the plans for Edgware were coming together. He said: "We look forward to creating an outstanding, vibrant town centre with the quality homes for everyone, businesses, public spaces and other leisure and cultural amenities that the community desires."
Peter Elliott, head of property development at TTLP, said: "We are looking to deliver high-quality new homes and improved retail space as part of a reinvigorated town centre, alongside other benefits for the local community.
"Sustainability has been considered a key part of the designs. From a new electrified bus garage to cycling and walking improvements, these designs will help to encourage sustainable travel and make Edgware and London an even more fantastic place for people to live, work and travel in."