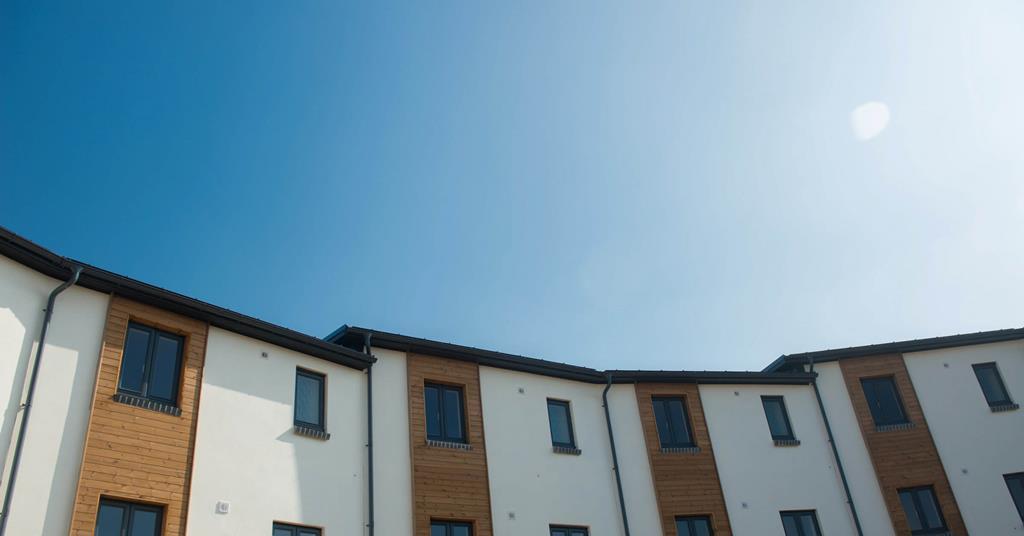 Developing housing association Aster Group has said it is on track to build 1,300 homes in the current financial year.
The 34,000-home provider, in a trading update for the six months to 30 September, said it had completed 685 homes in the first six months of the year, meaning it is on course to build its forecast 1,300 homes for the financial year.
It reported an unaudited pre-tax surplus of £30.8m for the half-year, down slightly on the £31.2m reported for the same period a year ago.
Its turnover in the six months was £145.3m and its shared ownership first tranche sales were up 14.4% to £30.3m. Its sales of shared ownership homes and open market sales homes, mainly delivered through joint ventures, totalled 289 units for the six months.
The developer said it had achieved its six month results "despite a challenging political and economic climate", in the update. It also said it was "proud to remain a sector leader in delivering Community Land Trust (CLT) developments" and that it expected to deliver 250 CLT homes by 2029.
After the covid pandemic and storms of February this year, the group said it focused on reducing its order bank and backlog for routine repairs for the six months to 30 September this year.
The group appointed Jordan Lister in May this year as director of growth and strategic information to expand the housing association's sector partnerships and portfolio.
Housing association financial statements 2021/22
Great Places sees turnover boost on 69% sales leap Manchester-based housing association increases revenue and underlying surplus but confirms it missed development target
A2 Dominion boosts surplus off the back of sales increase 39,000-home landlord beats development target
Southern boosts turnover through quadrupling of market sales income G15 housing association reports strong market sale margin as it continues merger talks with Optivo
Guinness builds less than half of targeted homes 64,000-home association becomes latest provider to repor development plan disruption due to supply chain issues and partners 're-profiling' schemes
Onward Homes reports £22.5m loss due to refinancing costs and write-downs 35,000-home north-west association 'on target' to build 1,400 homes by 2024
Clarion boosts surplus by 52% Housing association income increased due to near doubling of open market sales turnover and sale of stock to other providers
Stonewater reports halving of surplus and missed build targets as costs hit 34,000-home housing association hit by increase in operating costs
Moat misses build target but revenue rises South east-based social landlord reports £181m turnover but feels impact of labour and materials squeeze
Metropolitan Thames Valley's surplus falls 33% following tower block fire costs 57,000-home housing association's balance sheet hit by multiple factors, including increased operating costs and a fall in home sales
L&Q's surplus plunges after admitting major write down Housing association giant reports series of impairments reducing surplus by £53m
Orbit sees housing completions rise Materials and labour shortages mean growth was slower than expected for 47,000-home social landlord
Peabody boosts turnover and surplus due to shared ownership staircasing Housing association giant plans to start work on 7,000 new homes by March 2023
Sanctuary misses development target by a third due to 'pandemic effects' Housing association giant undershoots target but increases completions 34% year-on-year
Vivid increases development to above pre-pandemic level 33,000-home housing association completes 1,400 homes
Platform scales back targets for development and energy efficiency 46,000-home housing association increases turnover boosted by increased shared ownership sales
Later living giant Anchor posts £24.4m surplus following loss last year Housing association 'on track' with increased 5,700-home development plan
Hyde delivers fewer social homes than expected due to 'delays and shortages' 48,000-home housing association delivers 74% of affordable target, but hits lowered development target overall.
EMH Group misses development target by 40% Housing association says build hit by planning delays, materials shortages and pandemic impacts but is confident of hitting five-year target